Happiness.
Here are highlights from the trip.
Day 1.
Far Niente
We knew the tour was going to be special from the moment we walked in and saw our names written on a chalkboard welcoming us to Far Niente. Although we arrived 10 minutes late for our appointment, we were greeted pleasantly by the host and immediately escorted to catch up with the rest of the group.
Our tour guide was engaging and knowledgeable as he led us through the winery and caves. The man-made caves were impeccable and stunning. The property is beautiful, especially with the Spring flowers in bloom, and offers breathtaking views of the well-maintained Mondavi grounds. The tour cu

lminated with a tour of the family's

vintage car collection

, including a 1951 Ferrari 340 America and a 1966 Ferrari 500 Superfast. It was unexpected and fun.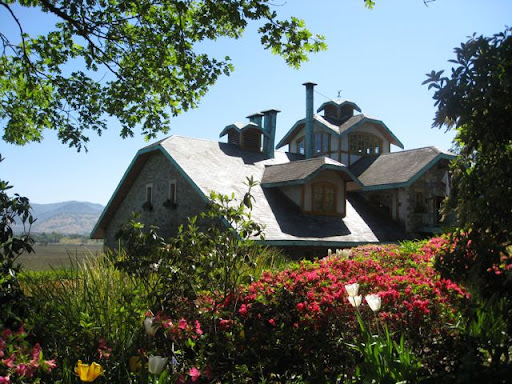 We made our way to the beautiful tasting room where we were greeted with six wine glasses and accompanying cheeses.
2006 Chardonnay

: toasted hazelnuts, apple, bosc pear, fig. Fabulous.

2007 Chardonnay: orange zest, tropical fruit, papaya.

2000 Cabernet Sauvignon

: spice rack, roasted coffee, chocolate, tobacco.

2006 Cabernet Sauvignon

: cassis, chocolate, vanilla, oak, velvety. LOVE.

1999 Dolce: honey, apricot, silky texture. Heavenly.

2005 Dolce: floral, light bodied, slightly grainy.
The 2006 Chardonnay was the first Chardonnay I have ever fallen in love with. Starts with fruit and good acidity and finishes with toasted hazelnuts. Well-controlled oak integrates the fruit and crisp acidity. Rich, well-structured, perfectly balanced. Far Niente Chardonnay never goes through malolactic fermentation. Our guide said that the creamy layers in the wine come from sur lie aging and regular stirring of the lees.
The 2006 Cabernet was oh so heavenly: silky, black cherry, vanilla, velvety chocolate, oak. Big and full on entry, bright fruit and spice/oak gives way to a long, layered finish of chocolate and dark fruit. Smooth, full-bodied, balanced, and soft tannins. Elegant and luxurious.
The 2000 Cabernet: roasted coffee, chocolate, spices. Think cinnamon, cloves, nutmeg. Glossy, light-bodied, well-structured, with soft tannins. Dark fruit mellows into roasted coffee, chocolate as a wine matures. Evidence that the wine ages beautifully. I really enjoyed the vertical tastings.
The tour guide went on and on about how incredible Dolce is and referred to it several times as "Napa Gold" and "liquid ambrosia." The 1999 Dolce paired deliciously with the blue cheese, but I wasn't crazy about the wine.
I highly recommend the tour and tasting at Far Niente... and the wine! I am determined to visit Nickel & Nickel, the sister winery specializing in Cabernet, the next time I find myself in Napa.
Joseph Phelps
We quickly made our way to a terrace tasting at Joseph Phelps. The terrace tasting takes place outdoors and offers sweeping views of the beautiful grounds. The weather perfect-- sunny, blue skies.
There were three stations each pouring different wines. The pourer at the first station was friendly and knowledgeable. The second station was pouring for a large group so we did not interact much with him. When we reached the third station, no one was there and we waited for a while until someone finally noticed us. She poured the last set of wines without any explanations and rushed us through the tastings. I asked a question about the wine we were drinking, Insignia-- the pride of Joseph Phelps, and she was rather abrupt. Quite a different experience from the intimate tasting we had just come from at Far Niente. Maybe the experience would be better in the private tastings.
We did enjoy spending time on the terrace overlooking the beautiful grounds. It would be a lovely place to have a picnic. H

ighlights were the 2006 Chardonnay,

Joseph Phelps Insignia

, and

ice wine

.
In desperate need of food, we stopped for excellent sandwiches to go at
Oakville Grocery

on our way to Caymus.
Caymus
I have a special place in my heart for Caymus. The first high-end California cab I ever had was Caymus Cabernet Sauvignon with my brother in 2006. It was lush, with dark fruit and chocolate integrated with the perfect amount of oak. I didn't know much about Cabernet back then but I knew it was the best wine I had ever tasted. I remember telling my brother that California wines are far too expensive and I prefer to drink Aussie Shiraz, NZ Sauvignon Blanc, German Riesling Spatlese, and Italian and Spanish reds. Well, that bottle of Caymus cab changed everything.
Caymus does not offer a tour, only a tasting for up to 10 people at a time. Reservations required and fill quickly. We tasted four wines and our host explained the wines in a wonderfully intimate way.
2003 Sauvignon Blanc: toasted nut, citrus, tropical fruit, fuller bodied, oak. Fantastic.

2006 Zinfandel: plum, pepper, tanins.

2006 Napa Valley Cabernet

: cassis, red fruit, chocolate, oak, silky. LOVE.

2006 Special Selection Cabernet

: soft, cassis, pronounced oak, hint of tobacco, velvety. LOVE, LOVE, LOVE.
The 2006 Napa Valley Cabernet was sublime as usual. Cassis and cherry cola in the nose gives way to intense flavors of cassis, sweet oak, and dark chocolate. Fruit-forward but dark chocolate is more pronounced in the body than typical Cabernet fruit. Full-bodied, moderate tannins, with long, persistent finish.
WOW. The 2006 Special Selection Cabernet is hands down one of the best wines I've ever tasted. It is 100% cabernet. Dark and rich, beautiful layering of cassis, black cherry, chocolate, and spicy oak. The dark fruit lingers and lingers in the finish. Extremely full-bodied, opulent in the mouth. I cannot wait for an occasion to drink this special wine again!
Cakebread
I must admit that I had a fair amount of wine before arriving at Cakebread for our group tasting. The tasting took place outdoors and it was rather hot. I don't know about you but drinking red wine under a blazing, hot sun is not very appealing to me. Awnings would have tremendously improved the experience. Our tour guide did not seem very knowledgeable, which was very disappointing. He was unable to answer some of our questions and seemed defensive of the wines if we voiced anything less than enthusiasm about the wine he poured.
Highlights were 2006 Chardonnay and
2006 Cabernet Sauvignon
. The Chardonnay was creamy but showed more oak than fruit. The finish was incredibly long. The Cabernet was herb and earthy in the nose but dark fruit and spicy oak are pronounced on the palate. It was slightly more tannic and not as full-bodied compared to the other cabernets we tasted during the day.
After a much needed nap, we were ready for Dinner at Bistro Jeanty

.
Upon arriving at the charming bistro, we were promptly seated and given the specials, handwritten on a small chalkboard. I loved it.
We were wined-out-- I didn't think it was possible-- so unfortunately we did not try any of their fantastic wines. We decided to order two appetizers from the specials. I knew I wanted the famous tomato soup in puff pastry long before I even made the reservation. And it was Divine.
Leek tart with mushroom jus

. Excellent flavors. Loved it.

Grilled

asparagus with tomoatoes, egg white, yolk served with hollandaise sauce

.

Tomato soup in puff pastry

... buttery flaky puff and savory soup.

Mousse au chocolat brulee, not at all like creme brulee just choc mousse with hard top.
Day 2.
Hot Air Balloon Ride


At the ungodly hour of 5:30am, we were picked up from the hotel and taken to the meeting place, Red Hen Cantina. We signed release forms over coffee and light breakfast. Closer to 7am we made our way to the balloon take-off site. The first whoooooosh of the gas flame startled me so much I jumped! We were one of the first balloons to go up in Napa valley and watched the sunrise as we slowly drifted over beautiful wine country. Our pilot was awesome. He offered enough information to make things interesting but let us have our own space and enjoy the experience. There were 10 people in the basket. One of the balloons only one couple in it-- he proposed! Breathtaking views. Majestic colors of all the balloons in the sky.


After landing, we were greeted with a lovely champagne brunch and had plenty of time to get to our first wine tasting.
I first had

Frank Family wines at an informal wine tasting in my neighborhood wine store in 2006. I enjoyed the wine but never came across it again. We were early for our Schramsberg reservation so we decided to walk into Frank Family for a tasting.There were some bottles left over from an even the night before so we got to taste a few of the reserves that are not normally part of the tasting. Overall

I was impressed by the wines and the prices.
2007 Chardonnay

: toasted almonds, oak, vanilla, creamy, very long finish.

2006 Carneros Chardonnay: vanilla, toasted almonds, heavier oak, yellow.

2007 Reserve Pinot Noir

: fruit, smokey, light bodied but complex, lingering soft finish.

2005 Napa Valley Cabernet

: cherry, tobacco, chocolate, smooth.

Best buy under $45.

2005 Reserve Cabernet Sauvignon Rutherford: intense fruit, less earth, soft cedar, chocolate, full bodied.
Schramsberg


The tour of the caves was awesome. Jacob Schram employed Chinese laborers to hand-dig the caves in the 1870s. The caves were expanded in the 1980s. The caves are covered with hanging mossy lichen, a sharp contrast to the immaculate cave walls at Far Niente. Our guide said the lichen helps maintain humidity in the caves. It was an enjoyable educational tour. We learned about méthode champenoise, the traditional method of making champagne, and about riddling, the process of turning of bottles to consolidate the lees for removal.
We ended the tour in the sunny tasting room. Highlights include
Blanc de blanc

: soft bubbles, dry, green apple.

Blanc de noir: demi sec, soft, tropical fruit.
We had a lovely

lunch at Bistro don Giovanni, an Italian bistro. We were lucky to get a table on the terrace overlooking winery grounds. I had sp

ring risotto with asparagus, arthichokes, mushroom, tomato, peas, and fontina
. Outstanding dish with fresh ingredients.
Our last winery stop was at

Steltzner

, where we did a w
alk-in tasting. Highlights were the Estate Malbec (very full-bodied) and
Estate Cabernet Franc
.
We rested before our much anticipated Dinner at Bouchon

.
The dining room is classical French. White walls with large mirrors, opulent. After two days of tasting big Napa cabs, my palate was overwhelmed. The sommelier was wonderful and listening to our needs. He suggested two half bottles, one white and the other red.
The Tor Chardonnay was beautiful. Toasted almonds, crisp acidity, pear with a hit of vanilla, integrated with oak. The Bourdeaux Pomerol was exactly what our wined-out palates needed with dinner: light bodied with bright red fruit.

We decided to share the endive and watercress salad with roquefort, toasted walnuts and walnut vinaigrette. The walnut vinaigrette added acidity but also brought out the toasted walnut flavor. It was a nice touch.

For my main I had

Gnocchi a la parisienne
: Alsatian style pan-seared gnocchi with a
ragout of spring vegetables with beurre noisette and sage
. The herbed gnocchi were not made of potato but of pâte à choux and egg and then gently poached in water. It was very intriguing. Tasty, light, glossy texture. The hazelnut butter added a lovely nutty flavor to the spring vegetables and complemented the herbs. Superb. Will dream about this dish for many nights to come.


I had the cheese plate to finish:

Tomme crayeuse

(cow) dense, creamy, mustard, mushroom / Chabichou du poitou (goat) dense, chewy, chalky, nutty, piquant / Bo Poisse (cow) bitter, creamy, pungent, mushroom, tangy.
I had first ordered Opal creek instead of tomme crayeuse. But the opal creek smelled of ammonia and gasoline. Not kidding. It was so strong the the table next to us commented on the foul odor. And I am a cheese lover. I had yet to meet a cheese that I don't love. When the server returned she asked me what I thought of the cheeses and I told her. Smiling, she said she absolutely agreed and offered to replace the cheese with the tomme crayeuse. She promptly returned with a new cheese plate for me. That is excellent service.
I loved Bouchon and am excited to try other Thomas Keller restaurants.